Pursuing Maximum Compensation For Injured Parties
---
An injury can turn your entire life upside down, from overwhelming out-of-pocket medical expenses to emotional trauma to lost wages. Since no one can plan for an injury, it can be hard to know what to do in the immediate aftermath of an accident. The Attorneys of Smith & Schwartzstein are here to help you through this process.
The legal ins and outs of personal injury law are complicated enough to discourage many victims from fighting against insurers offering them measly settlements, leaving the victim high and dry, up to their necks in medical debt. We work to ensure our clients not only get compensated for their out-of-pocket expenses, but also for the emotional impacts of the injury. You are more than your finances, after all.
At the New Jersey law firm of Smith + Schwartzstein, we provide personal, hands-on representation to those injured by the wrongdoing or recklessness of others. Whether you suffered a neck injury in a collision with a drunk driver or you lost a finger because a power saw was manufactured incorrectly, we can help you fight for the money you need to cover lost wages, medical bills, pain and suffering, and other damages.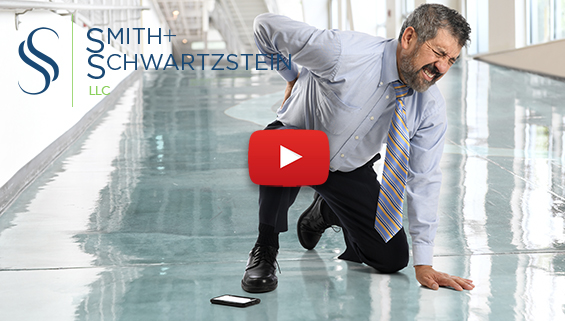 Motor Vehicle Accidents, Products Liability And More

Any situation in which a person has been injured or experienced emotional, physical or property damages by someone else's negligence or fault can be eligible for a personal injury claim. This can be from a car accident with a distracted driver, a loose stair in a business, or lead poisoning from a defective product. No matter your situation, our lawyers are here to help you understand your options and build your case.
Our Summit, New Jersey Personal Injury Lawyers Handle Cases Involving:
Car accidents:

Car accidents can be caused by distracted drivers, substance abuse, negligence, or simple ignorance of traffic rules. Our law firm represents both drivers and passengers injured in rollover accidents, rear-end collisions, head-on crashes, hit-and-run accidents and more. We also handle claims involving uninsured or underinsured motorists. Our goals with car accidents are determining fault and maximizing compensation from insurance companies.
Truck accidents:

We assist individuals who have been harmed because of overly aggressive semi-truck drivers, speeding commercial truck drivers, negligent trucking companies and other parties. Due to their massive size and commercial nature, trucking companies are responsible for the training and maintenance of their drivers and equipment. This means that when something goes wrong, we work to hold those responsible accountable.
Motorcycle crashes:

Motorcycles are the most vulnerable motor vehicles on the road, with all the speed of surrounding traffic without the protections or visibility of a car. Our attorneys pursue claims on behalf of motorcyclists who have suffered broken bones, traumatic brain injury, spinal cord injury, road rash, and other injuries.
Bicycle and pedestrian accidents:

When drivers fail to share the road, people get hurt. Bikers and pedestrians often sustain serious injuries when involved in motor vehicle accidents due to their lack of protection. We uphold the rights of bicyclists, walkers, joggers, and others on the road, helping them seek compensation after accidents.
Slips, trips and falls:

When property owners fail to take appropriate action to keep their premises safe, we can often pursue a premises liability claim. These claims not only compensate for your injuries, they motivate business owners to ensure their properties are safe for future visitors. Premises liability claims are for both your and future victims' sakes.
Defective or dangerous products

: When manufacturers rush processes or cut corners in order to increase profits, their products can become dangerous. Whether it's because of cheap and easily broken materials or using unsafe substances, corporations are responsible for the products they produce and advertise. Such products can range from household appliances and children's toys to medications and power tools. We represent those injured by the negligence of a product manufacturer, designer or distributor.
Wrongful death:

Wrongful death cases are prime examples of how personal injury cases can affect not just the people involved in the accident, but also their loved ones. The claims hope to compensate for what can never be replaced. Our lawyers pursue justice on behalf of families who have lost loved ones as a result of another party's negligence.
When you are involved in an accident, your physical health isn't the only thing that's impacted. The effects can be seen in your finances, your mental health, and your loved ones. This shouldn't be dismissed lightly, and those responsible for your pain should be held accountable. We'll help you fight back against those who have wronged you and those seeking to minimize the compensation you deserve.
We work with a trusted network of experts to investigate and improve our cases. These experts include medical professionals, accident reconstruction specialists, vocational rehabilitation professionals, and others. In addition, we only charge contingency fees in personal injury cases, which means you owe us nothing unless we obtain a verdict or settlement for you.
If you or a loved one has been injured or killed, please don't hesitate to contact the lawyers of Smith & Schwartzstein. We are located in Union County, New Jersey, and serve victims across Northern New Jersey and Southern New York. Our team of attorneys will work hard to build a solid case and get you the damages you are owed.